Hey Dance Family!
---
I HOPE YOU ALL ARE HAVING A
S P E C T A C U L A R
WEEK!
Dance Dynamix has a lot to be thankful for!
Our weekday and 
Saturday
 classes are still on a roll learning their recital dances and costumes are in and getting organized to distribute soon!
Our company dancers were AMAZING last weekend at Kids Artistic Review Dance Competition!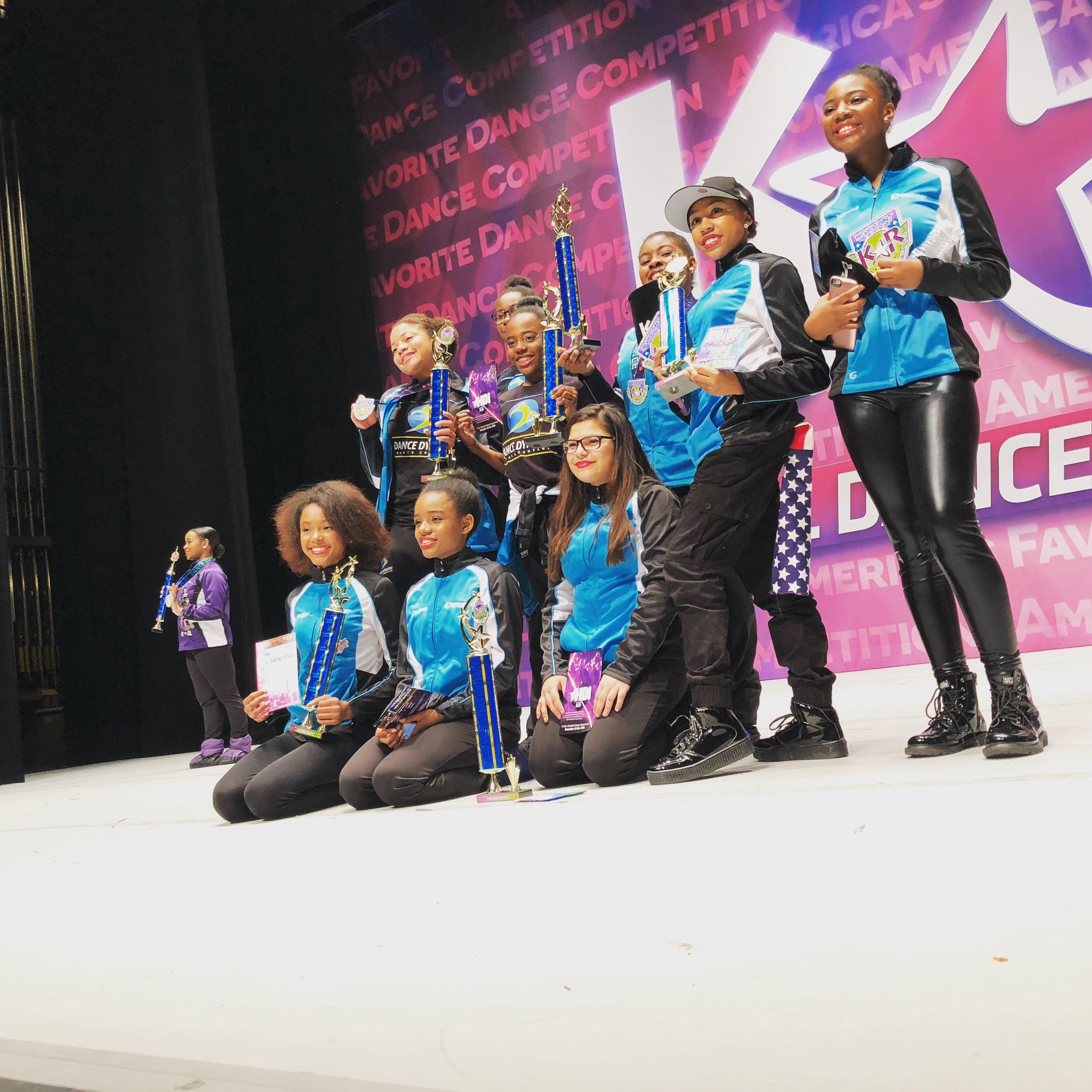 Below are solos, duets, who received 1st, 2nd, 3rd, or 4th overall in there category!
There is always lots of routines sometimes 20+  in each category and for our dancers to be in the top 6 was INCREDIBLE!!
If you see the dancers below them give them a warm hug and a great job!
Lauryn Felder – 1st Overall 
Makenzie Hooks – Harris & Kendall Battle – 1st Overall 
Caitlyn Wedderburn & Londyn Belle  – 1st place overall 
Courtney Aldridge & Libertad Garcia – 4th Overall 
Milanna Peaches – 6th Overall 
Kamryn Pierson – 6th Overall 
 We're SO PROUD of all our Dance Dynamix Dance Company members for a great 1st competition. Be on the lookout for more pictures, videos and awards updates. 
---
SHOUT OUTS OF THE WEEK
TO ALL OUR DANCE FAMILIES WHO LIKED or LOVED A PIC ON OUR FACEBOOK or INSTAGRAM PAGE AND LEFT AT LEAST A THREE WORD COMMENT.
Marlene Jefferson
Tricia McCarter
Chandra Brown
Arianne Robinson
Naomi Wilson
Wymeteria Foster
Yungi Jefferson
Tashai Little
 You have been entered into a drawing to win a $50 gift card.
---
Valentine's Day Dance Party 
Let's Dance For Love! 
We are so excited to have some Valentine's Fun with your dancer and their friends!!
Their will be games, games, food, and plenty of Valentines goodies for your dancer and their friends!
Saturday, February 17th
HAVE YOUR FRIENDS RSVP HERE BY5PM TODAY!!!
---
IT'S TIME FOR SOME FUN!!!
Friday, February 23rd!!!
Join us for Pre-School Playhouse!
 Pre-School Playhouse is designed to unlock your child's creative mind with exploration, imagination, movement and music! 
Pre-School Playhouse is open to children age 5 and under and their caregiver
Come in each 

Friday

 from 2:00

pm to 3:30pm

 
Friday's in February are FREE!! 
**RSVP IS REQUIRED**
---
Company Open Call!
Are you wondering 
How your dancer can join the Dance 

Company

?
Well here's the chance!!
SAVE THE DATE 
Company Open Call Week is
February 24th – February 28th
Any Dance Dynamix dancer age 3+ is eligible to attend.
BELOW IS THE SCHEDULE
3.5 to 4 years old
Saturday, February 24th – 9:00am to 11:00am
5 to 7 years old
Saturday, February 24th – 11:15am to 1:15am
8 to 10 years olds 
Tuesday, February 27th – 6:30pm to 8:30pm
 & 
Friday, February 23rd 6:30pm – 8:30pm
11 to Teen
Monday February 26th 6:30 – 8:30 
&
                           Wednesday, February 28th – 6:30pm to 8:30pm          
Click Here To RSVP your dancer for open call!! 
What's the Dance Dynamix Dance Company?
The Dance Dynamix Dance Company (DDDC) is an award-winning dance company compiled of young dancers who LOVE dance without any extra parent push. These dancers love to perform, thrive in a challenging environment and aspire to develop their dance technique and artistry in a
team based environment.
Company members train in Ballet, Tap, Jazz, & Hip Hop.
2017 – 2018 Company members will be selected from our student base through a Company Open Call. Company Open Call is when your dancer, for one week, attends existing company classes to see if they too will could benefit from the increased challenge that Company classes bring.
Company members are selected and placed on a specific company team based a combination of factors.  But generally dancers are invited based on  their inherent love for dance, positive attitude, dedication and leadership.
Participation on DDDC enables dancers to develop dance skills, but more importantly, it gives them the opportunity to learn critical life skills, which they will carry with them into adulthood. DDDC members learn commitment, dedication, self-confidence, teamwork, how to work under pressure and how to accept triumph and defeat in a gracious manner.
DDDC represents Dance Dynamix and competes in regional competitions and proudly hold several National Titles as well.
Company Open Call Week is
February 24th – February 28th
Any Dance Dynamix dancer age 3+ is eligible to attend.
The cost is $15 to attend.
Here's Some More Dance Dynamix Dance Company Info:
DDDC is broken up in to several teams based on skill level, maturity, and social development

Company

 dancers attend a required Summer Intensive during the 1st two weeks in August. This years Intensive dates are 

July 31st – Aug 11th

 
During the dance academic year, 

Company

 dancers take between 2 – 6 hours of class per week based their team placement
We'd 

 L O V E

 to see your dancer during 

COMPANY

 

OPEN

 

CALL

!!!
Open call week will be from: Ferbruary 24th – February 28th
Note – Company Open Call registration is $10
Click here to RSVP your dancer for open call!
---
Adult Performance Class!!
Adult Classes will begin
Saturday, March 17th 10:30am – 11:30am!!
This class will be a 9 week session full of fitness, movin' and groovin' and learning a dance to perform at your 2018 Annual Recital, Without Family What's the Pointe!
The cost for this 9 week session is ONLY $102
Not be able to commit to 9 weeks? 
Drop in at anytime for $15
Registration Is OPEN!!!
Click Here To Register For The Adult Performance Class
---
Performance In the Park Summer Camp!!
It is that time of the year!
Get your dancer signed up for our Performance In The Park Dance Camp and perform at
CLICK HERE FOR MORE INFORMATION
---
U P C O M I N G   E V E N T S 
Parents Watch Week 
Saturday, March 3rd & Tuesday, March 6th
This is a VERY IMPORTANT edition of Parents Watch Week. Please mark your calendar to be in attendance.
We can't wait to see you! 
---
KEEP
 LIKING AND LOVING OUR FACEBOOK PAGE!
Use any of these hash tags to find us on IG
#WeDoDanceDifferent #MyDanceDynamix #DanceDynamixDiva #DanceDynamixDude
See You Soon!